Psycho Review (1960)
Directed by Alfred Hitchcock "Psycho" is a film that shows his true talent and passion of making movies by showing high level of suspense throughout the story. The film has a major plot twist at the mid point of the film that is important as it turns the story in a new direction.
The story starts off with Marion Crane (Janet Leigh) stealing $40,000 and running away only to spend the night in a Motel where the story changes and suddenly becomes about Norman (Anthony Perkins) dealing with his mother issues.
(Figure 1: Psycho Poster)
The film stands tall with it's hidden Freud psychology meanings like Norman's relationship with his mother that's causes him to become insane.
Norman's bond with his mother is very strong after his father's death that he couldn't bare to see her with any other man this pushes him to the brink of insanity when she meets someone else, which causes Norman to become jealous. Another point of it's brilliance is the symbolic settings by having the mother house up high and the motel down below where Norman works. This gives off the idea that the mother is the authority while Norman is the obedient child that obeys the commands of his Mother.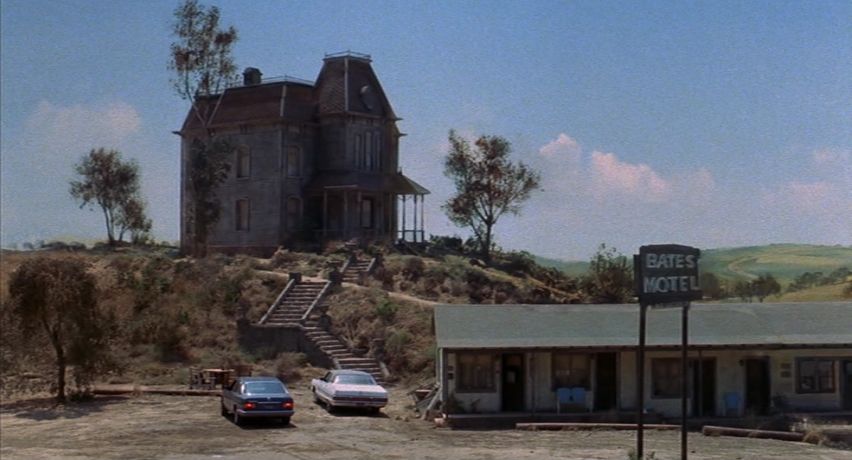 (Figure 2: the symbolic settings)

The iconic murder scenes was done brilliantly as it shows little information which can build tension that makes the audience question everything about the film. The soundtrack helps complement the scene as the screech of the violin makes it sound like a warning for what is to come. The iconic scene is a brilliant way of switching the story from a chase scene to a murder plot. "The death of the heroine is followed by Norman's meticulous mopping-up of the death scene. Hitchcock is insidiously substituting protagonists. Marion is dead, but now (not consciously but in a deeper place) we identify with Norman--not because we could stab someone, but because, if we did, we would be consumed by fear and guilt, as he is." (Roger Ebert's Psycho review).
(Figure 3: Murder scene)
Figure 1: Psycho Poster

Figure 2: the symbolic settings
Figure 3: Murder scene
Bibliography
Roger Ebert Psycho film review: